Create The Marriage You've Always Dreamed Of!
A Fabulous Wedding Ceremony
Can Move You from "I Do!"
To Happily and Healthily Ever After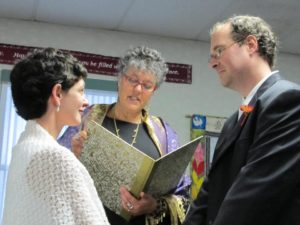 Congratulations! You've found your perfect partner.
Now you want a beautiful wedding ceremony to reflect who you are and how you love one another. Where do you get that? And how do you use that ceremony to help you  build a foundation for the marriage you want to live in for the rest of your life?
Imagine:
you and your partner and the perfect wedding that that honors your beliefs, hopes, and plans.
creating a growing, deepening marriage that lasts and lasts and lasts.
taking the right small steps to build your wedding day and your marriage.
Hearing your intimate communities pledging to support you on your wedding day and every day of your shared life.
your joy — on your wedding day and for the rest of your lives.
Creating the right ceremony can help you reap the rewards of a sound and exciting marriage. No one deserves this happiness more than you do! So how do you figure this out?
You're in the right place. Let me help you move from "I do" to "happily and healthily ever after!"
Ann